Introduction
I recently had a lengthy discussion about window treatments with a dear friend. While my friend had a pretty good idea of his window covering needs, he was lost when it came to actually naming the type of shade that would meet his list of demands.
I happily informed him that Cellular Shades would be the ideal solution to his needs. But to my surprise, he had never heard of this type of pleated window treatment.
This got me thinking!
How many more people out there are like my friend?
How many more people are oblivious of this type of pleated window protection?
How many more people are missing out because of their ignorance?
This article is dedicated to anyone that had never heard of cellular or honeycomb window shades before now. In this post, I will let you in on what exactly this window covering is all about.
I will start by explaining what this window shade is, then enlighten you with a brief history before getting into the pros and cons. You will also get to know what to seriously consider before getting this type of pleated window protector.
Hopefully by the end of this post, you would be knowledgeable enough to truly appreciate the 5 reasons why honeycomb shades will be perfect for your home.
But first…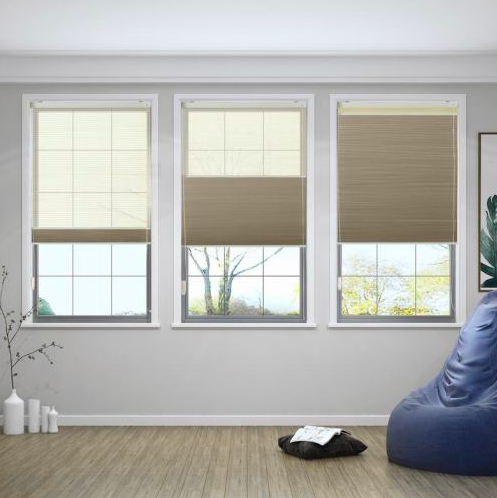 What Exactly are Cellular Shades?
In more recent times, there has been an upsurge in the demand and use of honeycomb insulation shades in many homes. These window treatments are designed to provide protection to your home. They help to filter or out rightly blot out Sunlight from radiating into your home through the windows.
Cellular Shades also provide insulation for your windows and home. They help to save energy as well as minimise your overall energy cost. The Natural Resources Defense Council estimates that doors and windows are primarily responsible for about one-third of the overall thermal loss in a home.
This thermal loss includes heat lost during Winter months and unwelcome Summer heat. When the air in a room in your home hits the windows, the air is either warmed or cooled. This warm or cool air will then circulate throughout the room. Warm air circulates in Winter time while cool air circulates in Summer.
The blinds of honeycomb window shades come with special cell shapes that are designed to capture air. These cell shapes also help to reduce heat transfer, as they provide a protective layer between your room and the surface of the window(s). Honeycomb protective shades come in three basic constructs, these are;
Single cell,
Double cell, and
Triple cell constructs.
While typical window blinds are built with hard, firm materials, honeycomb window treatments are made from high quality fabrics. The fabric for Single cell shades comes with a 0.28 to 0.44 metric R-value (i.e. 1.6 to 2.5 imperial). The metric R-value for Double cell fabric ranges from 0.49 to 0.70 (i.e. 2.8 to 4.0 imperial).
Honeycomb insulating shades will not only shield your home from the rays of the Sun, but also help provide blackout. The darkening of your room can stimulate quality sleep which is essential to good health.
You can get cellular window treatments that are either lowered or raised with the use of a string or cord. An example of this type of window treatment is the Classic Cord Lift Blackout Cellular Shade.
There are also cordless versions of honeycomb blinds. This version was made for safety reasons. It minimises the risk of incidents and accidents with children in your home.
The Cordless Blackout Cellular Shade is a good example of a window treatment that can prevent children from accidental strangulation. The control mechanisms of honeycomb insulating shades are available in two general options, namely; Bottom-Up or Top-Down control mechanisms.
A Brief History of Cellular Shades
The history of honeycomb window treatments dates as far back as ancient Egypt. At a time when this great civilisation was ruled by Pharaohs. The Egyptians of ancient times were great inventors and master craftsmen. But it was in the 18th century that the Englishman, Edward Bevan in 1769, would file a patent in London for his Venetian blind invention.
The hugely popular Venetian blind would be the precursor for Cellular Shades. By the early 1970s, Thermocell Ltd was formed through the partnership between Wendell Colson, an inventor, and Steele. This company aimed to provide solutions to the looming energy crisis at the time. It also provided creative pleated window treatment solutions to douse the concerns of heat loss in both domestic and commercial buildings through doors and windows.
However, the conventional cell shapes that are the cornerstone of today's honeycomb shades were provided 40 years ago by inventors at Hunter Douglas engineers.
Like the pioneering Duette Honeycomb Shades products when they first hit the market, more improved cordless versions like the Cordless Light Filtering Cellular Shade White Backing and the Cordless Blackout Cellular Shade White Backing are providing better natural light transformation and energy saving/efficiency options today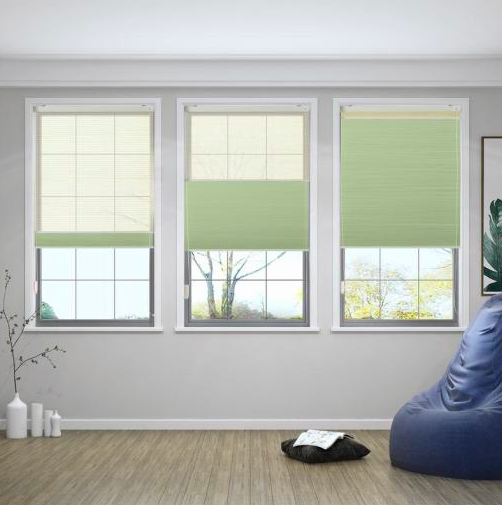 Common Cellular Shades Terminology
Before you spend a dollar buying cellular window treatments, you might want to know some common terminologies associated with honeycomb shades.
Here are a few worth noting;
Cells:
Cells are the air pockets that are created by the honeycomb shape of this window treatment option. You have a single, double or triple cell honeycomb shade option.
Single cell simply means having just one air pocket while double means having two air pockets and triple cell shades come with three air pockets. The air pockets provide a layer of protective insulation that regulates your room temperature at all times.
Opacity:
Opacity is just the volume of light that can pass through the window treatment material. In the case of honeycomb blinds, you have four different opacities and these include; sheer, semi-sheer, semi-opaque, and opaque.
If you want a shade material that allows for full transmission of natural light, then shades made from sheer material is what you need. However, for a shade that fully blocks out natural light, go for a shade with an opaque fabric.
Options:
This refers to the control mechanisms available for your Cellular Shades. Typically, you have three different options and these are; motorized, cordless, and top-down bottom-up. Motorized shades make use of a remote control to either raise or pull down the shades.
Cordless is a safe option, especially if you have kids at home. Cordless will prevent your children from accidental strangulation. With the top-down bottom-up option, you can raise the shades up or pull them down. You can also do both at the same time if you prefer.
Pleat Size:
The cell or honeycomb shaped blinds are also known as pleat. These come in a variety of sizes generally in inches, such as; 3/4", 9/16", 1/2", 7/16", and 3/8".
The major determining factor for the pleat size you should choose is the actual size of your windows. The larger your windows are, the larger the pleat size you should choose.
Cell Range:
The cell range refers to the number of honeycomb shape layers that are present in a shade. For a single cell honeycomb protective shade, you have just one cell layer. With a double cell honeycomb window treatment, you have two cell layers while triple cell shades come with three cell layers.
The Pros and Cons of Cellular Shades
Like all things in life, pleated window treatments have their merits and demerits. Here are 5 reasons why honeycomb shades are great for your home.
#1. Temperature Regulation:
The cellular design of honeycomb insulation shades provides a layer of insulation to help regulate the temperature in your home. So you can expect your home to be warm during Winter and cool in Summer with this type of shade.
#2. Improved Privacy:
You can keep out nosy neighbours and the peering eyes of strangers with pleated window shades. These shades can be pulled all the way down to completely cover the length and breadth of your windows to improve your privacy. With honeycomb window treatment, you can achieve total blackout if you want to.
#3. Noise Reduction:
While your pleated window treatment is not entirely soundproof, it can help to shut out considerable outdoor noise. With your honeycomb blinds, you can give your family some peace, quiet, and tranquility even in a busy suburban home.
#4. Slim Construct:
Cellular Shades have a sleek, slim construct and they are highly stackable. This is despite providing extra-layered insulation, and having noise reduction capabilities. When raised or drawn, pleated shades are compactly stacked without appearing bulky and cumbersome.
#5. Adjustable Light Filters:
You can adjust your shades by either raising them up or pulling them down. You can also leave pleated shades half-way across your window. At noon (when the Sun is at its highest point in the sky), you can raise your shades up to minimise the intensity of the Sun rays to your home through the windows. If you want to catch the rays of the Sun, you can as well pull your shades down.
Con
Difficulty in cleaning: You may need to uninstall your shades in order to wash dirty or stained shade.
Closing
As you can see, pleated window treatments have existed for quite some time now. Although conventional honeycomb shades offer even better control mechanisms than earlier versions.
With Cellular Shades, you will be able to provide your home the sort of insulation and temperature regulation needed for all seasons. If you are a very private person, then these shades are just right for you, as they offer blackout and noise reduction capabilities to give the tranquility you desire.
Call-to-Action
If you want to get the best cordless honeycomb shades available in the market. I suggest you visit ChadMadeCurtains today. At ChadMadeCurtains, you can get Heat Insulating, Anti-Ultra-Violet light, Noise Reduction, and Energy Efficient shades for your home.
We offer shades with polyester spun lace non-woven fabric that are sleek, slim, and highly stackable. You can also buy shades in a variety of colours to match the interior of your home. Our honeycomb shades are lightweight, aesthetic, and very affordable. Contact us today to place your order.
Reference Resource:
Different types of Cellular Shades and its usage
Jordan Dyer, Apr 27, 2018
https://medium.com/@jordandyer05/different-types-of-cellular-shades-and-its-usage-ead7ed11a22e
A BRIEF HISTORY OF WINDOW BLINDS AND SHADES
https://www.santaclaritablinds.com/brief-history-of-window-blinds
Cellular Shades
https://en.m.wikipedia.org/wiki/Cellular_shades
The Pros and Cons of Cellular (or Honeycomb) Shades
by buzzhive | Feb 5, 2020
https://vangoghwindowfashions.com/2020/02/05/honeycomb-shades-pros-and-cons/
Chad Made Curtains
https://www.chadmadecurtains.com/Cellular-Shade-c58051.html