Customer Service

Video
A Story About One Of ChadMade Customer,But Happend Every Day.If You Have Difference Experience ,Please Let Me Know .
Inquiry form Cedric on Sep 21, 2019
Question body:"I hope I ordered the correct width. Other than this email, thank you by the way, I found no direct way to contact you to ask questions. My automated traverse rod is 167" wide (length) with opening in center so there is overlap of approximately 2-3" in center and wraps around ends another 2". The length from top of rod (not the hooks) is 102" leaving 2" from floor. I wanted the Thermal Blackout Lining but found no option to choose it. Can you please advise me on what width per panel would be best to cover my window but have the smallest possible stack on each side when opened fully so as not to obstruct view too much? Also, what the difference in price will be for Thermal Blackout Lining? Color choice is Rock Grey. After receiving the curtains and I like how the look, etc I will order the curtains for my remaining large windows, one with exactly the same specs as this one and another one with the stack going to only one side." click here to know detail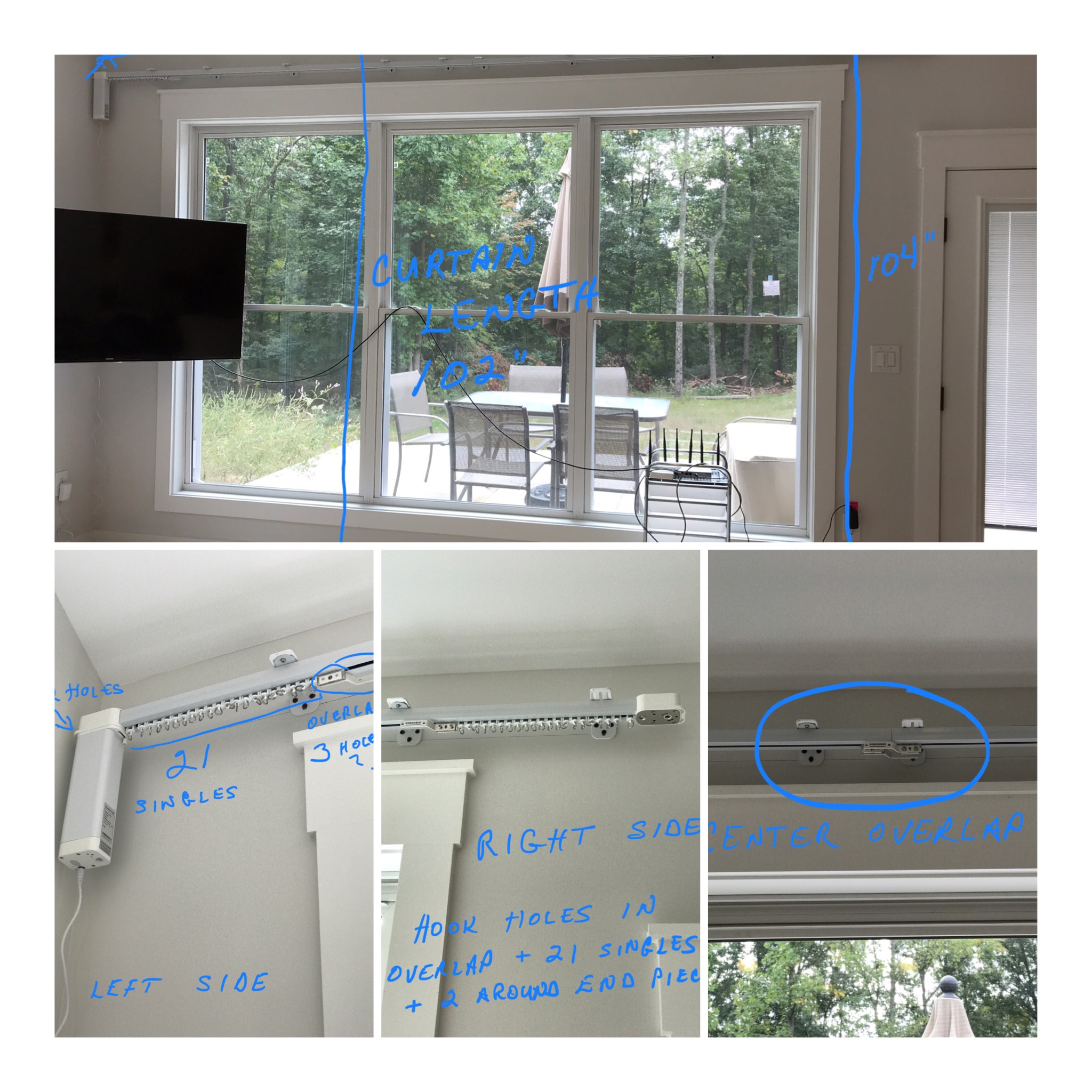 FAQ
>
Customer Shannon:How do I measure my window for curtains?
>
Customer
Charlie:
I purchased goblet cylindrical curtains! but, someone broke several adjustable goblet hardware pieces. Can I purchase additional hardware from yours?
>
Customer
Frank:
Hi! I'm wondering if you make drapes for two story windows. I'm looking for something pinch pleat and 20 feet tall. Thanks
>
Customer
Dava:
On May 11th, I ordered a privacy curtain:grey in color & 162 inches wide x 84 inches high. It is supposed to be shipped to my address. What is the status of this order? My credit card has been charged.
>
Customer
Brent:
Hello, looking to buy the velvet blackout out 150" W x 108" L. My question is, can you make a panel or one end of the curtain that is shorter? I need one end of the curtain to be shorter by my stairs.
>
Customer
Sue:
Hello, I need to replace the drapes in my dining room. The current drape has seen better days and is on a traverse rod hung with what I believe are pinch pleats. I was thinking of taking the drapes down, laying them on the floor and measuring them INCLUDING the pleats. I would also count the number of pleats and hook and relay that information to you. Would that be an effective way to order draperies from you? Please let me know and thank you in advance.?
>
Customer
Meghan:
Hi we purchased the outdoor drapes in the 84x84 length. How many grommets come in the 84 width??
>
Customer
Kim:
I believe I need custom curtains. Color is: Stone KY06-5. 2 panels. Each panel will be identical. 118' tall x 250" wide. Header type is Pinch Pleat. I believe I'll need about 100 of the adjustable pin hooks. I do not need a tie back. Not sure what I need for a lining. I do not want black out but rather light filtering. I want to mount them on a ceiling track. I will need 2 tracks of 130' each. Hopefully they can be cut to size. What might I be missing and what is the cost and delivery time??
>
Customer
Connie:
I am planning to buy curtains for my Pent house and I saw the details online and inputted all of my details. ISABELLA Cotton Linen Polyester Curtain Drapery Custom XY7084 Color: Brown XY7084-59, Header Type: Velcro Tab Top, Single Panel Finished Width in Inch (with extra fullness factored in):94, Finished Length (Height) in Inch:136, Lining Type: Blackout Liner 140 gsm White, Matching Tieback (3x18 Inches): Yes. Weight:4.72 X 1 = 4.72 Kg 1. As part of above order which items will be shipped like Curtains, tieback. also, am I going to get Panel as well to install to wall? 2. Do I need to install it myself or as part of order is it going to cover??
>
Customer
Charles:
Hello! I'm trying to order custom curtains from your website. I'm looking to hang them on Ikea Vidga triple track rail. Does your curtain header come with a backing to add hooks for a pinch pleated header and hang it on the rail? How do I go about figuring this one out??
>
Customer
Michael:
Hi I would like to order some pinch pleated sheers, I'm just not sure what size. I have one big window with one sheer on it, it measures 106 inches wide, 84 inches long, 24 pleats, I was going to order the 120-84, do you think it would work I measured the top of the pleat. Then I have another window with 2 sheers on it 601/2 Each I was going to order the 84-84, and it has 15 pleats per panel. Also, is the beige lighter than the ivory it looks like on the colors. How would you describe the beige color; I'm looking for an off white. Thank you?
>
Customer
Jessie:
HI IM LOOKING FOR BLACKOUT FIREPROOF CURTAINS 1. 25'X8'5" 2. 25'X9' 3. 30'X8'5" 4. 13'X8'?
>
Customer
Kathleen:
I recently purchased pinch pleat shears and drapes. Do you also offer valances for a traverse rod? Please advise, thank you.?
>
Customer
Tania:
I am looking for (2) panel curtain foam lined or foam backed 50x54 (2) panels 50x77 or sizes that may be close. Polyester, machine washable/your lake blue color/ traverse rod that uses hooks or rings that have hook pins for top hook. Thank you for your assistance. I can't seem to find on your web site if you do have them. Also, what would the price be??
>
Customer
Guite:
Hello, I am interested in purchasing some of the Isabella Roman shades and am wondering if it is possible to order several fabric swatches? I would love to see the off-white and ivory options. Can you let me know the best way to do this? Thank you!?
>
Customer
Wylucki:
Hi, how can I get a sample of the Flame Retardant Sheer fabric? I don't see it listed on the sample page. Thank you?
>
Customer
Laborde :
Hello, I would like to order drapes but I am not sure how to order the width to the correct fullness in a pinch pleat. I have a traverse rod that is 152 inches wide. I know two drapes but not sure what the width of each panel should be. Can you help??
>
Customer
Baranova:
Do you sell blackout type curtains in a white or off white 168" (14 feet) long? windows are 144" (12 feet wide)?
>
Customer
Molloy:
i will be buying more curtains from you soon, could i have a store credit??