Introduction
Do you have a bucket list of exotic resorts you would like to visit, but with the hustle and bustle of work, you really can't make time? Well, you are not alone in this regard.
Daily routines can be monotonous, boring, and even frustrating, especially when it takes up most of your time. If you desperately need a break, but you just can't afford a vacation at the moment. You can try the next best thing, and that is to bring some resort style vibes to your home.
You can start by decorating your home with similar exciting decor features found in your ideal holiday resort. For starters, you can change your window curtains to something more enticing, interesting, and appealing.
In this post, you will learn 5 ways to create a resort style ambience to your home. You will get to know what resort style decors can help turn your home into a welcoming, cozy den. So while you might not be able to travel at this point in time, you can still get away from the stress of everyday living in the comfort of your humble abode.
...let's get started!
#1. Adorn your Walls with Large Artwork:
One way to give your home a resort style decor appearance is by placing large artwork on the walls. It is not unusual to see large paintings hanging from the walls of rooms in resorts and hotels. You can also replicate this decor style in your home.
Having a large tapestry in your living room or an oversized painting hanging over your bed is not a bad idea. You can make your home appear a bit more dramatic without being too overbearing. This is essentially what resort decor is all about, by the way.
#2. Bring some Sunshine to your home with Tropical Island Wallpapers:
If you have dreams of vacationing on a remote tropical island, you can start by decorating the walls of your home with tropical island wallpapers. This will be the first thing you see when you wake up from bed in the morning and when you get back home from a tough day at work.
Tropical island wallpapers will create a lively, carnival like atmosphere in your home. This will leave you in an upbeat, cheerful mood whenever you are at home. Looking at tropical island wallpapers is relaxing, good for your stress levels, and generally healthy.
#3. Large Houseplants can improve your Mood:
Another way to instil a resort decor style to your home is by bringing in large houseplants in equally oversized flower pots. Apart from acting as natural home decor pieces, plants in your home can be very therapeutic.
You can include large tropical plants like Dracaena, Sabre fig tree, Kentia palm, Swiss cheese plant, Bird of paradise, Macho fern, and Olive trees. These plants can be strategically placed in the corners of your living room, hallways, porch, kitchen, bathrooms, and bedrooms.
Plants also help to purify and cool the air in your home. You will breathe only fresh oxygen at all times. This will improve the quality of your rest and sleep.
#4. Give your home a Natural Signature Scent and have it smelling nice all day:
Many resorts have a peculiar scent that you immediately get a whiff of once you step into their lobby. You can also imitate this with your own signature, natural scent. You can install a scent diffuser in your home to help create this resort style fragrance.
Using citrus candles can provide your home with a fresh scent all day long. Eucalyptus is also a great source for a natural fragrance that will be perceived throughout your entire home in no time. This soothing, natural scent will help you to relax even on extremely hard days.
#5. Use Custom Drapes and Curtains:
Using custom window curtains is yet another way to provide a resort decor style to your home. Replace drab and dull looking draperies with more exciting polyester-linen curtains.
These draperies are great for your living room, dining room, kitchen, and bedroom. You can also get curtains to match old or newly acquired furniture decor.
Good quality drapes will provide a warm, calming, welcoming feeling to your home. The sort of feeling you experience whenever you visit and spend time at a holiday resort.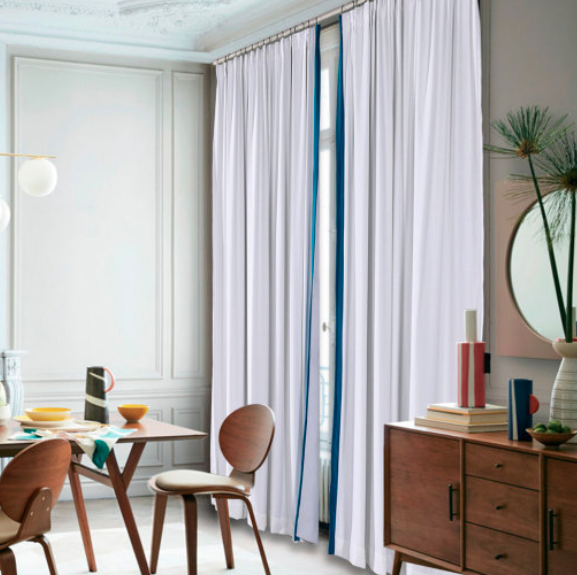 Resort Decor Style Curtain Tips:
Sheer Curtains work wonders!
When getting resort decor style curtains for your home, it would be a nice idea to get sheer curtains. Sheer curtains are made from soft, light textured fabric. These curtains are visually appealing and very easy to maintain. They are also elegant and will provide your home with a classic look.
Go for Neutral, Natural Curtain Colours
You should also try getting neutral coloured curtains. Most resorts use curtains with a natural, neutral colour theme. These colours create a sense of privacy while giving your home an ultra-fresh appearance. In addition, neutral colour curtains can complement your home furniture and decor.
Closing
You can decor like resort style, by adding some of the features that you would normally find in a holiday resort or hotel. Introducing large plant-life like Umbrella trees, Heart-leaf Philodendron, Rubber plant, Sabre fig, and Bird of paradise plants into your home is a good start.
You can also bring in large paintings and artwork to give your home a larger than life appearance. Laying wallpapers with images of beautiful tropical islands on the walls of your home is a good idea and will put a smile on your face. These wallpapers will make your mind wander off, and your imagination run wild.
Signature scents are all too common in most resorts, and you too can introduce this concept to your home. You can get a scent diffuser and use citrus candles or bundles of eucalyptus to fill your home with a pleasant fragrance at all times.
Finally, you should consider getting sheer or polyester-linen curtains for the windows of your living room, bedroom, and kitchen. Most resorts stick with neutral coloured curtains, and so should you.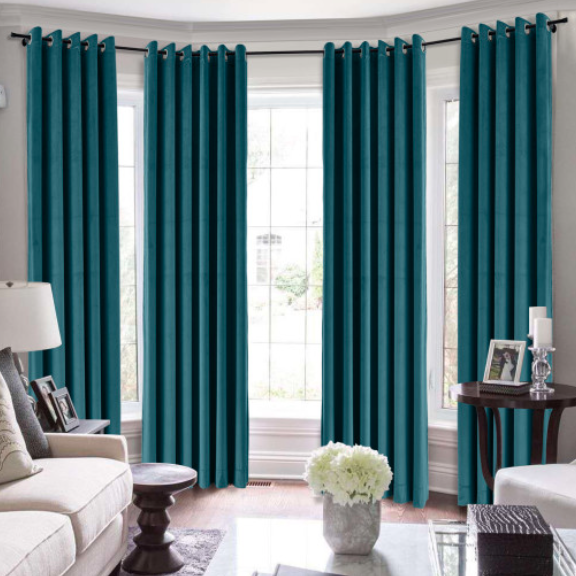 Call-to-Action
At Chad Made Curtains, we make Solid, Embroidery, and Gradient Sheer Curtains to turn your home into a personalised retreat. Our Sheer curtains will create a fresh, private, and calming atmosphere in your home, similar to what you would expect from a five-star resort.
Our Custom Liz polyester faux linen curtains are one of the most popular resort decor style curtains around. These cool, skin-friendly, colourfast curtains are made from 80% Polyester and 20% Linen.
Liz's polyester curtains are easy to clean, wash, and maintain. This curtain only requires warm machine wash, low heat tumble dry, and low heat iron (if needed).
We also offer fantastic custom window drapes to match the wallpapers, wall paintings, furniture, and decor in your home. Our custom drapes are specifically designed to your decor needs and will provide your home with a real resort feel. For more information on our curtains and discount drapes, please visit our help center now.