| | |
| --- | --- |
| Product Name | Tallis Polyester Faux Linen Roman Shade |
| Item NO. | 1908-RS |
| Material | Polyester Linen |
| Color Theme | Khaki, Navy, Burgundy Red, Ivory White, Snow White, Light Khaki, Rust Brown, Chocolate Tart, Pink Lemonade, Plum, Red Wine, Firebrick, Orange Copper, Everglade Teal, Gray Beige, Dark Grey, Fog, Light Grey, Peacock, Beige White, Sand Beige, Taupe Grey, Rock Grey, Carbon Grey, Oak, Khaki Yellow, Aqua Haze, Pure Cahmere, Parchment, Jade Green, Lagoon, Pale Blue, Sepia, Green, Black |
| Pattern | Solid |
| Room Type | Media Rooms, Living Rooms, Bedrooms, Dining Rooms, Kids Rooms, Bathrooms, Kitchen, Nursery, Office, Home Theater, Reading Rooms, Public Space |
| Collection | LIZ Polyester Linen |
| Weight | 1.0000 kg = 2.2046 lb = 35.2740 oz |
| Category | Shades > Roman Shade |
| Brand | ChadMade |
| Creation Time | 2020-04-18 |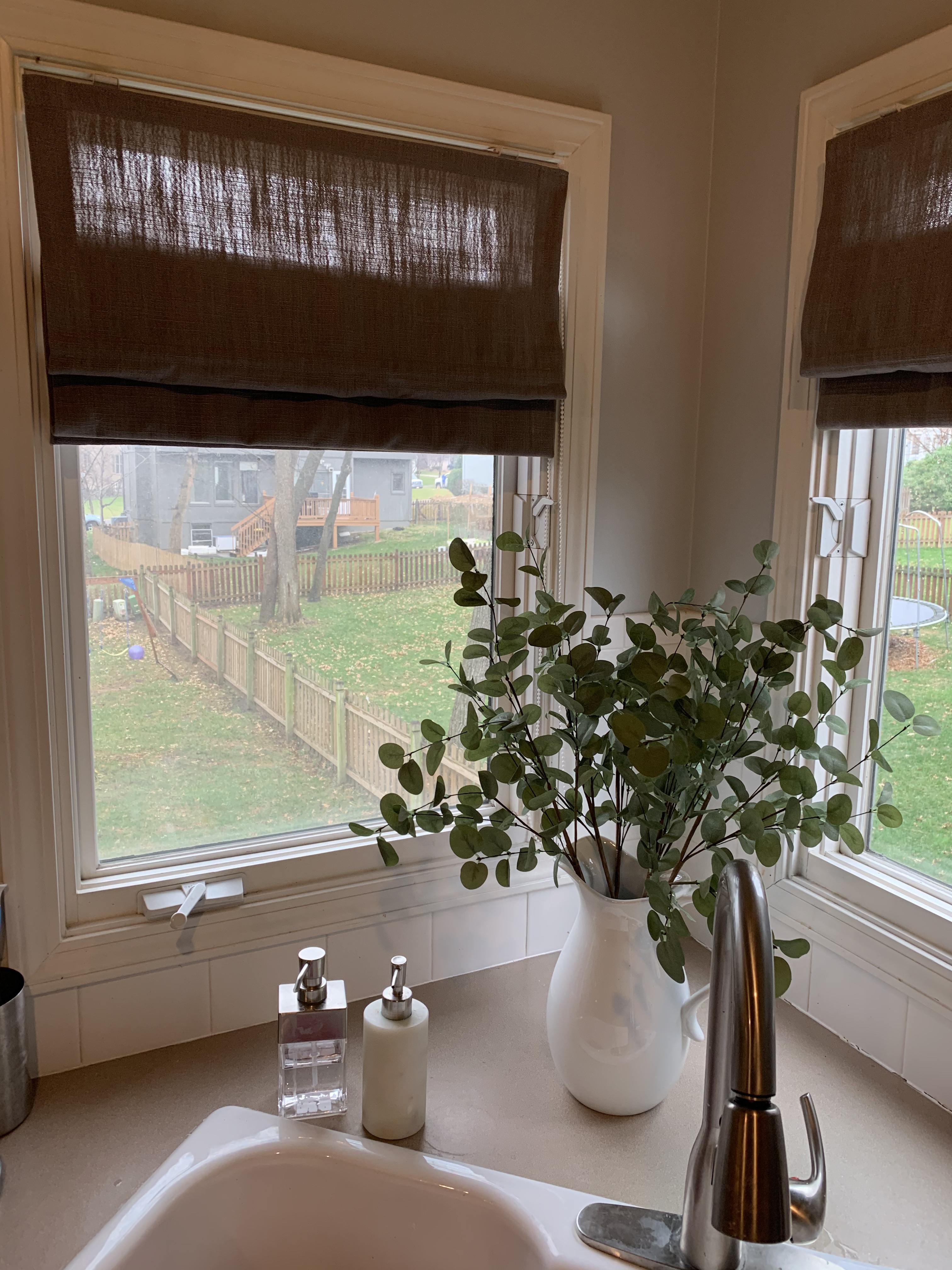 Add beauty and functionality with fabric roman shades. Roman shades will effortlessly transform the look and feel of any room. These washable roman shades come in a large color choices to complement the interior of any room.
ChadMade Roman Shade Mounting Instructions

Feature
The Roman curtain is perfect for small windows. It is easy to install and occupies no space.

Hardware and installation instruction are included. Corded lift system ensures safety and practicality.

It also has good functionality. It can also lift and shade up and down well.

G

ives your windows the look of luxurious fabric at an affordable price.

Add depth and dramatic presentation to any room thanks to the beautiful folds of Roman shades, coupled with a huge palette of designer fabrics.
Lining Types

Unlined:

Same color and texture as front.

Shading rate 70

%.

Room darkening lining

: 140 gsm white fabric lined. It meets the shading needs of most people, the room is obviously darkened after the curtains are pulled up during the day, suitable for the bedroom.

Shading rate 8

5%-95%.

Blackout lining

: 220 gsm white blackout fabric lined. The shading is very high. It is recommended for people who are sensitive to light. The room is dark after pulling up the curtains during the day. It is suitable for bright lighted bedrooms and balconies.

Shading rate

90%-99%.
Inside or Outside Mount: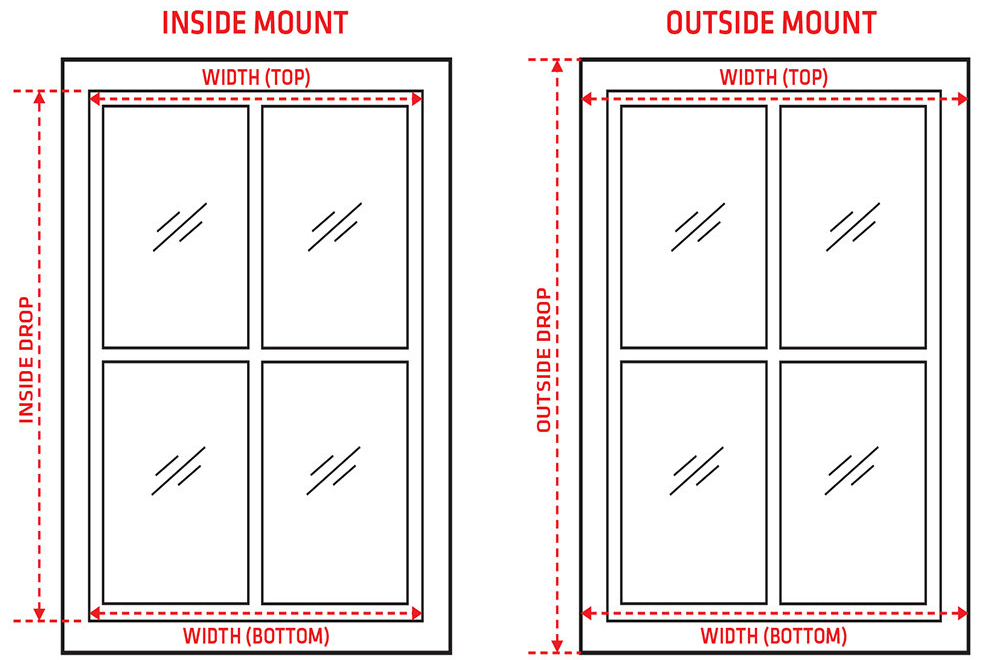 Measuring guide:
We offer Roman Shades in a wide variety of style and fine fabric.
Custom Roman Shades give you precise fit, which not only looks great but insulates better.
Custom Roman Shades let you choose at reasonable cost,like left or right side cord placement.
All our custom Roman shades settle smoothly,evenly and gracefully into soft folds when raised.


Mount Type & Measurement
Inside Mounted roman shades will have a deduction taken of approximately 3/8" to ensure a proper fit inside window frame.
Inside mount is suggested if you plan to layer drapery, a valance or cornice over your treatment.
Great way to leave attractive woodwork exposed.
lf your window frame depth is less than 1-1/4", please select Outside Mount. Minimum depth of 1-1/4" required for a secure installation.

Step 1.
Measure the inside width at 3 locations(the top, middle and bottom), then record the smallest of the 3 measurements.
Step 2.
Measure the height at 3 locations (the left side, middle and right side), then record the largest of the 3 measurements.


Outside Mounted roman shades should be ordered at the exact width of the area you wish to cover.
Outside mount is often used when there is not sufficient frame depth for inside mounting. No minimum depth requirement.
When mounting outside window frame we recommend adding 6 inches to the total width ( 3 inches each side) and 6 inches to the length
(3-1/2" at the top and 2~3" below the window sill). The overlap is recommended to allow appropriate coverage and avoid any light gaps.

Lift System
Loop cord control lets you easily and evenly raise , lower and precisely position your shades, while giving your window a sleek,uncluttered look.
Lining
Some shades come standard with polyester privacy lining, which offers both insulation and blackout.
We recommend Lining for linen materials in order to prolong the life of fabric and protect your treatment from sunlight.
Lining also helps preventing UV ray damage of flooring and interior furnishings. Fabric that are silk require lining.
Cord Position
Lift cords raise, lower and position your entire shade. Select either left or right side location for your cords,taking into consideration your room configuration,
ease of reaching lift cords behind furniture.
Critical Dimensions
Headrail Dimensions: 1 3/8" H x1 3/16"D
Flush mount depth: 1 3/4" D
Headrail Width Deductions-Inside Mount: 3/8"
Headrail Deductions-Outside Mount: 0"
Standard Cord Length: Equal to the shade length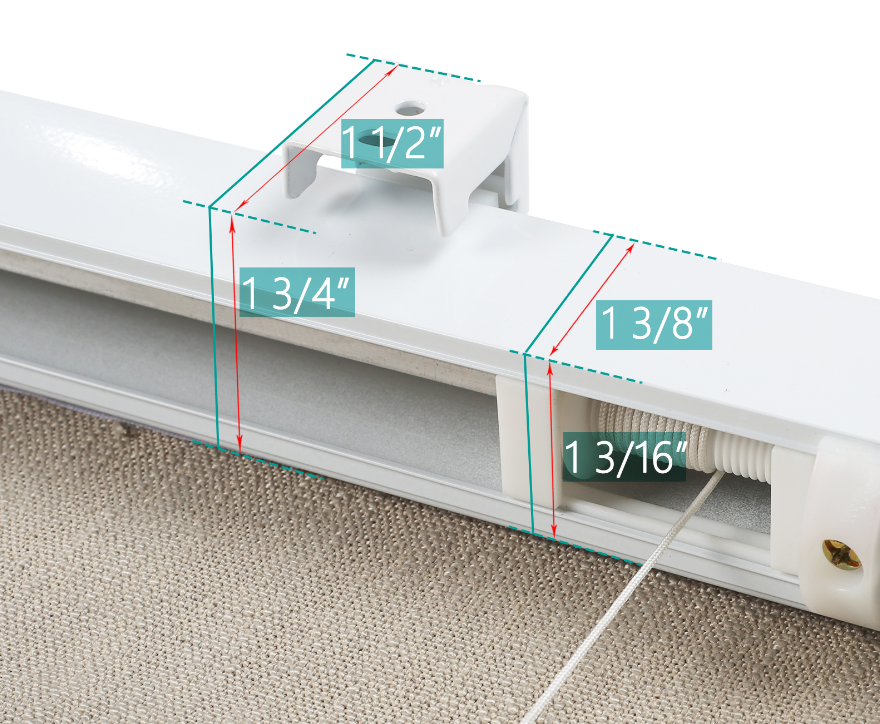 Single Shade:
Minimum Width: 15"
Maximum Width: 68"
Minimum Height: 40"
Maximum Height: 106"
Care Instruction
If shade become stained, you may wipe clean the spot with a sponge dampened with lukewarm water.
Avoid contact window cleaning products as these may discolor your shade. Ultrasonic cleaning is not recommended or covered by our warranty.
Color Variation
Color lot variations may occur due to the process of color application.For the best color match, order all shades for room at the same time.
Patter availability and color lot match between orders cannot be assured.Any variation in color is in accordance with industry standards.