Are you looking for new ways to spice up your patio and home? How about exclusive home outdoor curtains? It is time you understand the importance of livening up your outdoor space and see how it can add to the existing value and beauty of your home. Some people never think about sprucing up their outdoor patios and only focus on the interior design.
There are several methods to make your patio feel more comfortable and inviting, but nothing beats curtains. Outdoor draperies are currently one of the most popular trends in the design industry. Blinds and curtains can take your patio from good to great, whether you choose a dramatic design or lighter color scheme.
Today, we will discuss the importance and role of Chadmade outdoor curtains and how these can take your home to the next level. These curtains and outdoor drapery panels are intended to maximize the beauty and aesthetic appeal of your place and offer a brand-new touch to your entrances.
Why Should You Think About Using Blinds and Curtains?
Whether you want to use indoor out-door patio curtains or outdoor grommet curtains for your beautiful home, these will ultimately add to the existing value of your place. These can give a new feel and look to your place and also help you showcase your exterior design in a unique manner. Imagine your house as the only one with drapes and curtains in a row of mundane and boring places.
Because we live on such a lovely planet, many of us are always trying to bring the outside inside. Building a decent outdoor experience will allow you to enjoy the perfect combination: domestic coziness and natural light. Outdoor living room furnishings are now available that are equally as pleasant as those found indoors.
These furnishings are well-cushioned, with lovely materials and textures, but they're also built to resist continuous exposure to weather, heat, snow, and precipitation. There are other outdoor culinary options that are just as practical as your indoor kitchen appliances. The same goes for curtains, blinds, and drapes.
Outdoor blinds are a perfect fit for this approach. The first of those natural stages, as we strive to look for new and inventive methods to build outdoor living areas that we can truly reside in, is to help protect this area. It's all about making it seem like you're inside but also showcasing the outdoor surroundings. When you're attempting to appreciate those magnificent vistas, extra wide outdoor curtains may seem like a contradiction, but you'll be surprised at how much freedom they provide.
Solar or wind protection is provided by exterior blinds. Dropping a blind when it becomes too hot may help you stay comfortable in your outdoor living area, and you won't have to worry about completing running inside when the wind picks up or when it gets too hot.
Your blinds may also add a layer of seclusion to your outdoor area. This may not be a problem if you have enough room. People who live in proximity to their neighbors may appreciate the opportunity to enjoy a little more privacy outside. You can set the mood with a candlelit supper or relax on your couch as you please. You can appreciate your privacy with at-home outdoor curtains.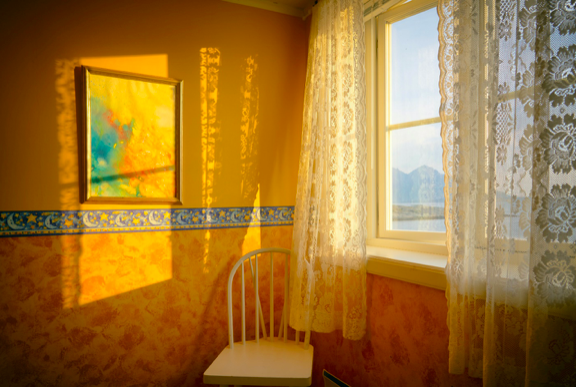 (Source: https://unsplash.com/photos/pzAuIypUg7I)
What Are the Benefits of Outdoor Curtains and Blinds?
One of the essential advantages of having a lowering blind is that it protects the room from the weather. It can easily protect your furnishings and equipment from dirt, gravel, scorching sunshine, and the strong gusts of wind for way too long. There's no need for your outdoor living space needs to be strictly practical. You can easily form a gap between the area and the toxic environmental factors by having fun with your layout and adding a few extra touches, such as heavy canvas outdoor curtains.
Blinds allow you to control temperatures before there's a problem. You can walk out onto the patio or outdoor area and drop your shades to prevent the wind if it's cold outdoors. You can lower your curtains if it's already sweltering outside to keep the area as cool as feasible. If you are interested in home gardening, controlling the temperature and the quantity of light that enters the room allows you to create a suitable growth environment for your flowers that don't appreciate direct sunshine.
You might be shocked to find that patio blinds are a fantastic option for automated arms whether you're rebuilding an existing house or want to give your current home a makeover. Curtains with no fasteners, hooks, or cables may breathe fresh life into your outdoor area. The authentic Chadmade outdoor curtain and blinds collection is contemporary, practical, and child and pet-safe. It can liven up your place, add functionality, and offer ease of convenience without breaking your budget.
What Are Some Amazing Options for Outdoor Curtains and Blinds?
There are hundreds of different options, and you may choose from outdoor sheer curtains, outdoor tab curtains, or more based on your requirements. You can use an architectural structure or come up with a unique way to hang your draperies. However, after you've succumbed to the allure of the great outdoors, you'll figure it out. Your outdoor area is another opportunity to show your relaxed way of basic housing, as the breeze generates sweeping masses of blinds for patio door calling you outside. Here are some of the best choices for your outside area.
Outdoor Window Curtains
Putting curtains outside is a fantastic way to make your living patio seem more like a house. If you have windows that view out into your terrace, keep in mind that they are also an important part of the structure. You may use amazing curtains to adorn your external windows, and you can utilize a basic choice to carry the pattern around. Curtains are an excellent alternative for making your patio feel like an outside loungeroom.
Focus on drapes that are resistant to mildew and extreme weather while you look for alternatives. If you plan to hang your curtains in a location where they will be exposed to the elements, choose fade-resistant and weatherproof fabrics. Outdoor sheer curtains waterproof from Chadmade are a great option for you.
Outdoor Gazebo Panels
If your patio has a covered space, you won't want to overlook some beautifully hung drapes. They provide seclusion while also giving the area a soothing, spa-like atmosphere. Transparent drapes are common, but if you want more seclusion, you might go for a thicker drape.
Suede drapes provide all the seclusion you could desire but be prepared to wipe them on a monthly basis to avoid problems with the climate. Linens and silk drapes that can be cleaned in the machines could be a preferred option for many who live in unpredictable weather. Ultimately, you can also choose outdoor industrial curtains that are easier to clean and can withstand severe temperature and weather fluctuations.
(Source: https://unsplash.com/photos/EF6z_6R94zQ)
What Should You Consider When Choosing Outdoor Draperies, Curtains, and Blinds?
Here are the topmost important considerations when choosing outdoor curtains for your home. These will ultimately place you on the right path and help you choose the right options for your patio.
Think About the Sunlight
Most of us desire a shaded respite from the scorching heat, as well as a moderate option to the frigid, synthetic, and expensive blows of air conditioners. If you're craving some natural ventilation, try taking in some natural light. If you wish to enjoy the much-needed fresh air and keep the sun at bay, use thicker, denser material. Otherwise, you'll be disappointed since a lightweight fabric won't keep the heat out.
The Element of Privacy
If you want to protect yourself from irritating road audiences, flashing lights, and cars, and want your outdoor space to function as a private area, you'll need a thicker garment to protect you from all the disruptions that come with living in an area that isn't naturally isolated and peaceful.
The Aspect of Mood Enhancement
A sheer cloth would accentuate the impact for those of us who are charmed by the romanticism of patio cafés or the sense of a mystery breeze. The allure of billowing, glistening outside drapes emphasizes the ephemeral nature of these sunny days. If you want a great combination of outside romance and fresh air, a lighter fabric will do, and Chadmade curtains offer everything at your fingertips that will take your mood to the next level.
(Source: https://unsplash.com/photos/hG3H6N6VwCY)
Final Thoughts
When shopping for outdoor curtains, keep in mind that your own style is by far the topmost determinant. Pick a good design that you'll like seeing every time you go out onto your terrace. Otherwise, you will end up hating the design, and you will continuously want to change the design. This will only add to your expenses, and you will have to spend extra money on the curtains.
If you want the best outdoor curtain and blinds collections, EDITH Outdoor Curtains are here for you. These offer everything from simplicity to functionality to modish designs. When you go with EDITH curtains, you can never go wrong. If you wish to learn more about outdoor patios and how to liven up space with modern curtains and blinds, you can download this eBook and make rational decisions.