What is a summer style guide: interior design trends for summer
The summer season gives way to new interior design trends and home décor options to people. Letting the sunlight through a beautiful pair of curtains is definitely worth it, and it can liven up your interior design. This is why people invest a lot of money and time in choosing the right curtains and drapes for their beautiful homes. This summer style guide brings the best of the curtain and drape industry to your fingertips.
Today, we will cover the best interior design trends for the brilliant summer season. What window curtains are in style? What discount drapes can you enjoy for your home? What kind of material will look amazing while offering maximum breathability for your home décor? These are merely a handful of the things we will cover today.
What is LIZ Cotton?
LIZ cotton is 100% cotton that offers breathability and style in one mix. Summer is the ideal time for wearing cotton, and the same goes for your home décor. Some people go for polyester linen curtains, while others go for LIZ cotton curtains. The reason behind this is that LIZ cotton offers maximum air ventilation while providing an ideal touch to the overall interior design of your home.
Why is Summer Interior Design Important?
Some people do not care about the summer designs at all. They let the same curtains, designs, and more going on throughout the year without feeling the need to liven up their home with brand-new options. On the other hand, some people worry about window drapes and choose to go with
for their place. So, why should you worry about summer interior design?
One of the best advantages of summer interior design is the heightened personal housekeeping happiness. With the introduction of new designs and trends, your home will look beautiful. This will indirectly translate into enhanced happiness around the house. Moreover, the different colors and new summer designs will have a positive impact on your brain, and you will be more inclined to stay positive throughout the day.
Similarly, summer interior design also plays a role in making your home look beautiful in front of guests. Beauty is in the eye of the beholder, but beauty also lies in your choice of the right drapes to match the curtains, furniture, and home décor. Therefore, you can enhance your home's beauty in front of guests with the right design options.
Another benefit of summer interior design is the increased breathability and air ventilation in your home. Summer can get suffocating in many places, and normal drapes or curtains just don't cut it anymore. This is the reason why you need something that will not only go along with your interior design but also increase the overall airflow and ventilation around the house to keep the temperatures within a comfortable range. Therefore, you can choose new curtains that will block out the sunlight, keep your fixtures away from the harmful impacts of the UV rays, and offer a good airflow inside the house.
What Are the Real Examples of Our Customer?
If you decide to go with chadmadecurtains most popular curtains, you cannot go wrong. Why should you trust ChadMade curtains and design options for your home? We have a huge list of regular and satisfied customers who trust us with their seasonal design options. Here are some of the real examples from our customers. You can further read about them on our official website and make up your mind about it.
Chris requested help in February 2019 from the support staff for blackout curtains for their media room. He wanted Pinch Pleat so that he could attach the hooks for the track already installed in the room. Moreover, he had a modern automatic tract that he wanted for the curtains. Once he shared the measurements with the team, we were able to quickly locate everything he wanted and deliver it to his doorstep as soon as possible. Our team was also able to further help by offering useful advice on the installation process.
Cedric contacted us in March 2019 and wanted drapes for a project he was working on at the time. He was also working on a media room and wanted curtains that would block out any obtrusive sunlight while retaining a colder and comfortable environment inside the room. He wanted drapes that would hang over the television installment and also wanted curtains that would go well with the room. We helped him find the right panels to install the said drapes and curtains and also located something ideal for the media room that offers good ventilation, maximum sunlight blockage, and breathability simultaneously.
What Are Some Amazing Tips and Reminders for Summer Designing?
If you live in a hot area, you know how hot it can be in the summertime. With energy prices rising annually, keeping your air conditioners on all day to be cool may be costly.
When the conditions change, among the most neglected methods to stay cool is to change your interior décor and style. How you design your house and generate adequate natural ventilation can help you stay cooler without increasing your electricity costs.
Install air conditioners or paint your home in a soothing color scheme. There are several cost-effective and environmentally responsible solutions to keep your house cool that involve making changes to the current interior design and décor of your place.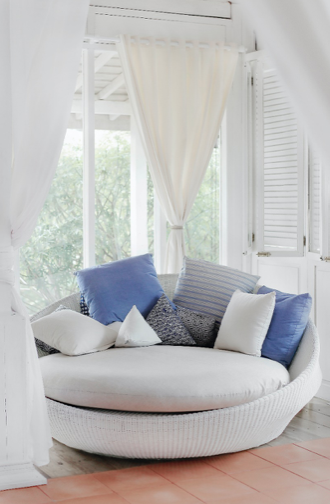 Go for a Fresh Coat of Paint
Even though a dark and striking wallpaper can express an opinion, it can also impact your living area's climate. Deeper hues absorb heat more readily, resulting in a temperature increase. Soft neutral hues reflect sunlight and assist in keeping your rooms colder. You may also buy High LRV (Light Reflective Value) coatings, which are meant to reflect as much ultraviolet rays as possible, making your space more pleasant.
Therefore, you can choose a fresh coat of paint and make your home cooler, more beautiful, and welcoming during the summer season. Many people go for an off-white or eggshell white color palette for their summer interior design choices. Choosing lighter color schemes will reflect the sunlight and keep the temperatures down.
Get Rid of Carpeting
Rugs are undoubtedly comfortable on the soles, but they may raise the interior temperature. Warmth may be absorbed by rug strands, which subsequently reflect heat back into the house. It is preferable to use exposed flooring materials such as wood, porcelain, vinyl, or stone if you desire a cooler climate.
You can still pair your new flooring material with smaller rugs everywhere to keep the exits and entrances covered. However, smaller rugs will not have much impact on your home, and they will still look as beautiful as you want them. Similarly, it is also easier to clean and maintain bare flooring rather than take care of carpeting. So, you will also be free from any harmful pollutants throughout the summer season and keep your home colder, better, and more comfortable for everyone.
Go for Ceiling Fans
In the summer, maintaining efficient heat transfer around your house may make a massive impact on your pleasure. The atmosphere in your house circulates, creating a refreshing wind on your body and making you feel better. When the evenings grow warm, keeping a ceiling fan blowing cold air down on your bedroom will keep you cool while you rest. Many people invest in modern ceiling fans that offer light fixtures and air ventilation at the same time.
Summer season demands good ventilation, and ceiling fans provide that without driving up your utility bills. If you desire, you can get modern, customizable ceiling fans that will go well with your interior design and help you make a statement while keeping the temperatures and bills down.
Invest in Breathable Drapes and Curtains
You can also invest in breathable curtains that reflect sunlight and only let cooler wind pass through the tightly wound threads. LIZ cotton drapes and curtains, as well as polyester faux linen curtains, are the ideal option for your place. We offer the best and the latest collection of curtains that will go well with your interior design while keeping your home cooler, comfortable and happier.
These curtains are made of breathable and fancy materials that reject sunlight, pollutants and only let wind pass through. This will let you keep your family away from the harsh side effects of hotter months, and you can enjoy an enhanced interior design, air ventilation, and more in a single package.
Final Thoughts
Summer designs and trends always bring something new to your fingertips and offer you a chance to revitalize your home with brand-new energy, cooler temperatures, and eye-catching designs. If you want the same thing for your home, you can take a look at your website and find something for your home. We offer the best and the latest of the industry at your fingertips, such as our liz polyester faux linen. You can also buy LIZ cotton drapes, curtains, and more without breaking your bank.